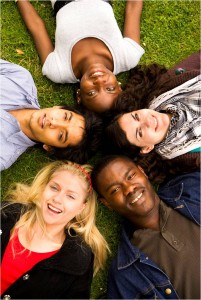 While there are many who spend time finding videos to watch online, there are many who only watch videos when their friends share links with them via twitter, facebook etc.  We figured it'd be cool if we could aggregate all these shared links and bring them to you on your friend feed on Shufflr. The more friends you have on Facebook or follow on Twitter, better the chance of interesting videos finding their way into your friend feed. The nice part of this is that these videos show up even if your buddies are not on Shufflr. In our quest to constantly help you find videos you like, we figured this would be a great way to crowd-source your video discovery.
The best thing about Twitter is that you can follow not just your buddies but anyone you like, from Robert Scoble (@Scobleizer) to Britney Spears (@britneyspears). Now every time they share videos they like, it shows up on your friend feed.  Not just that, if you follow a list, videos shared on the list appear in your feed too.
You can do the same with Facebook by becoming a fan of pages you like. So now, apart from seeing what your friends are sharing on Facebook, you can now see videos shared from the bands you 'like' – coldplay, U2, John Mayer etc.
I for one love this feature. I have been seeing some real quality videos from @stephenfry, @scobleizer, U2, Mark Knopfler, Shufflr and of course my pals.
Believe it or not, there are days..sometimes more than 2 at a stretch that I don't log on to Facebook. 2 days is a loooong time in Facebook world. The flood of updates from my buddies including shared videos are driven into oblivion in  a matter of hours. With Shufflr I now have a convenient way of catching up on the shared videos to watch when I please.
But wait….there's more.
Just when you thought things couldn't get any better, we go ahead and surprise you. We introduced another new feature – the ability to queue videos from within and outside of Shufflr to watch at your convenience.
The Shufflr bookmarklet sits on your web browser's toolbar. Every time you come across a video you like – say on a blog, on facebook, on YouTube etc. and you just don't have the time to watch it…or maybe you just like it, you just have to click on the Shufflr Bookmarklet button on your browser to queue it into your Shufflr account. The next time you log in to Shufflr, all you need to do is click on the queue button on your browser to list out all the videos you collected from the web.
So you don't need to skip or rush thru a video at work only because you had little or no time to see it, as we just built your personal 'DVR' for online video. The Shufflr bookmarklet is here.
So the next time you launch Shufflr, you will automatically be upgraded to the latest version. Do remember to connect your facebook and twitter accounts to see these videos appear on your friend feed. Our crawlers work on a schedule, so don't be alarmed if you don't immediately see updates from facebook and twitter on your friend feed. Rest assured that they will appear within a few hours of connecting your accounts.
By the way if you like what we are doing and want to stay up to date, please 'like' the Shufflr fan page. You'll find some interesting videos there too.